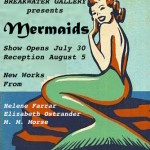 EASTPORT BREAKWATER GALLERY PRESENTS "MERMAIDS"
The Eastport Breakwater Gallery will be presenting a new show about those mystical and sometimes mischievous creatures: MERMAIDS! The show will include new encaustic works from Helene Farrar, 3-dimentional works from Elizabeth Ostrander and mixed- media pieces from M. M. Morse. Show opens on August 30, 2016. All are welcomed to a reception on August 5, 5:00 to 7:00. The show will run to the end of September. The Breakwater Gallery is located at 93 Water Street, Eastport.
Event:
"MERMAIDS" Show Opening and Reception by Helene Farrar, Elizabeth Ostrander & M. M. Morse
Place:
Eastport Breakwater Gallery, 93 Water Street, Eastport.
Show Opens:
August 30, 2016
Reception:
August 5, 2016
Time:
5:00 to 7:00
Show Duration:
Through September